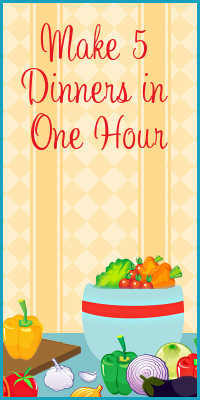 Do you ever get tired of trying to come up with something to cook for dinner every night?
Or am I the only one? Actually, if truth be told (and that is what we are into here at Musings of a Mother), what I get really tired of is NOT cooking dinner, or not knowing what is for dinner, or staring at the refrigerator at 5 or 6 o'clock and thinking we have nothing to eat for dinner and we are going to have cold cereal
again
!
I have tried every system I can find, from The Food Nanny, to Simplify Supper, to cooking a months worth of food in one day - never again - to simply doubling everything I make, to actually, well, having cold cereal just about every night for dinner.
Well, Michelle, over at
Make 5 Dinners in One Hour
has literally
saved me
. She puts together a shopping list, menu, assembly and cooking instructions in one handy little packet, all good for one weeks worth of dinners. If you go over to her site, you can click on a link and Michelle will send you one week free so you can try her system. I tried it last week and let me tell you, it works! Her meals are very good, her recipes are
easy
, and it really does take just one hour to put it all together. My kids even enjoy helping me put together the meals. I can't tell you how nice it was to have 5 meals lined up in the refrigerator (or freezer) ready to go.
Michelle charges $15.00 for a three months subscription (that is only $1.25 per menu). But she has given me
two one month meal plans to give away!
For a chance to win, leave a comment below (come on, I am dying to see some comments from my dedicated readers!). That's it! I will choose a winner by Friday, July 8th of this week. Good luck and thanks Michelle!